June Foray - The Voice of 100 Characters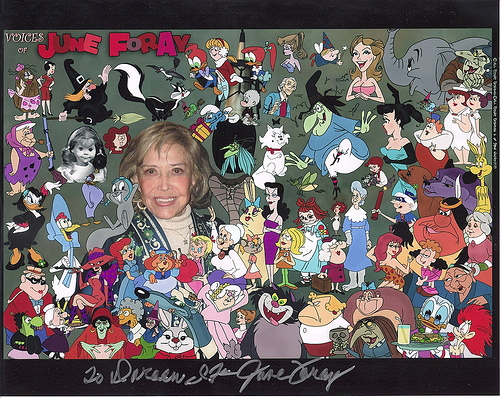 (I wrote this post earlier this year and just saw the news that June Foray passed away back in late July, two years shy of her 100th Birthday.)
Disney's Cinderella, Rocky & Bullwinkle, Cindy Lou Who are just some famous voice that June Foray voiced over her almost 70 year career. Foray began her career in radio during the the late 30's which blossomed until the late 50's when radio saw its decline. Foray made the move into film when she was snatched up and created a long friendship with cartoonists Walter Lantz (Woody Wood Pecker) and Friz Freleng (Bugs Bunny) which opened doors that she earned the devotion of many generations.
Today Foray turns 100 and what an amazing life she has lived. Her last jobs before retirement was at the age of 97 was with the rebirth of the Garfield Show on TV in 2011 and a Rocky & Bullwinkle short film in 2014. My personal favorite character on her resume is Grammi Gummi on the 80's hit tv show Gummi Bears. Sadly a large portion of Foray's 360+ movie and tv show resume were uncredited, unlike her male counterparts like Mel Blanc and Chuck Jonies. But the industry respect for Foray was great. Chuck Jones brought her to Warner Brothers and after lengthy friendship, considered Foray one of the greatest voice artists since the birth of talkie films and television. Jone's was even quoted in saying "June Foray is not the female Mel Blanc, Mel Blanc was the male June Foray"
Other highlights to Foray resume was her work include a short stint with the Hanna-Barbara. Followed by the holiday favorites from Rankin/Bass, like The Little Drummer Boy and Frosty the Snowman. Foray only married once in her life and has lived almost her entire life in southern California while being born and raised in Massachusetts. Today Foray is far from the public it seems although back in 2015 for a period of two months, a twitter account was made in her name but it appears to be some stranger considering the account is only retweets about random things like Nick Carter's new single in 2015 or selling Brandi Glanville clothing. Foray is perfect example of how Hollywood doesn't recognize the women who helped build it. She received her first Daytime Emmy nomination and only win, finally in 2012. Long overdue is a very big understatement.
Last but not least, for those of you who were kids back in the 60's then you might also know her from her as the voice of the Chatty Cathy Doll. Which lead into her guest appearance on the Twilight Zone tv show as the voice of murderous doll story, a precursor to the Chucky Doll. I would like to take this opportunity to say THANK YOU JUNE FORAY! Your career is inspiring and I appreciate the great mark you left on the film and television history. Happy 100th Birthday June!